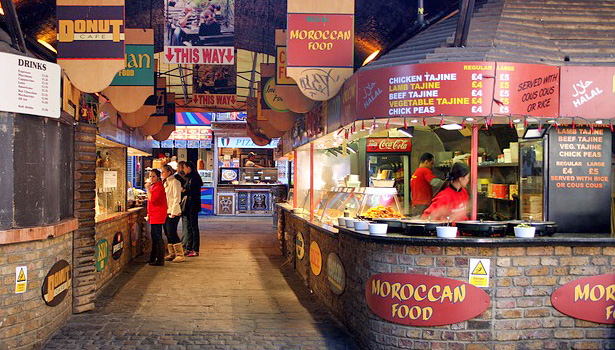 London is one of the best world's places to eat out, thankfully for its cosmopolitan variety offers a great variety of cuisines, you can find many kind of flavors to indulge your dinning expectations. People from all around the world have brought their own exotic flavors and culinary culture to the city, making London an exciting and cosmopolitan place to eat out.
Also is a very big effort for travelers to find the right place and the right prices where to eat because there are many venues from witch choose and perhaps London is the most expensive city to eat in, but as any other places taking a look the city we can find some good restaurants with good food and affordable prices. Inevitably prices are very expensive at venues closest to major tourist attractions. Some areas with inflated prices trading on travelers' gullibility and lack of knowledge are the streets around Piccadilly Circus, Leicester Square, the British Museum and the Palace of Westminster.
Here's a guide to some of the best restaurants area by area.
Covent Garden
Covent Garden is an attractive area with a covered piazza complex at its centre. It's popular with tourists but can be pricey. If you're looking for an inexpensive meal in this area your best bet is to try out some of the large bar/restaurants such as Wagamama and All Bar One, where you'll find reasonable quality food in stylish surroundings at affordable prices.
If you want to experience a traditional London restaurant, try Rules on Maiden Lane. It's rather expensive but it's worth it. Reputed to be the oldest restaurant in London, it has a beautiful vintage interior and serves old London favorites, from oysters and eels to pies and puddings.
Another famed London restaurant and popular hang-out of the rich and famous is The Ivy on West Street. You'll need to book a table weeks in advance to savor its wonderful modern and luxurious British cuisine – shepherd's pie, leek tart, kedgeree and the deliciously decadent sticky toffee pudding.
South Bank
Urban redevelopment has seen lots of 'gastro-pubs' pop up in this area – chic and trendy bars serving high quality food in informal surroundings and at reasonable prices.
For fabulous modern European cuisine, try Festival Square on the ground floor of the Royal Festival Hall. It's a relaxing café-bar serving everything from light snacks to filling main course dishes.
Another popular gastro-pub is the award winning Anchor and Hope on The Cut. In contrast to many of the bars in this area, its décor is traditional, with oak paneled walls, but its food is most definitely up-to-date. Try the beetroot and goat's cheese salad or the lamb shank with minted beans.
Bloomsbury
Bloomsbury is home to many of London's top academic institutions such as University of London, University College London, Birkbeck College and the British Museum. It's always bustling with students and as a result there's a great choice of good but cheap café-bars and brasseries as well as some more upmarket restaurants.
The Coffee Gallery on Museum Street, next to the British Museum, has an eclectic range of organic and vegetarian dishes, from sandwiches to salads and pastas.
One of the best ethnic eateries in the city is Hakkasan, London's first Michelin-starred Chinese restaurant. It's chic and sophisticated, with inventive dishes and a fashionable cocktail bar.
Knightsbridge and Chelsea
Two of the most fashionable and exclusive parts of London, Knightsbridge and Chelsea are dotted with upmarket and Michelin-starred restaurants.
Celebrity chef Gordon Ramsay has London's only restaurant with three Michelin Stars. Named simply Gordon Ramsay, it's on Royal Hospital Road near Chelsea Embankment.
Founded in the 1950s, the Troubadour on Old Brompton Road is an eclectic café-bar with a prestigious live music heritage. Bob Dylan, Charlie Watts and Jimi Hendrix are among the stars who have performed here. The epitome of London bohemia, this West London institution has a deli, club and café, and it's great place to hang out for food, drinks and music.
Camden
Camden is young, hip and trendy and there's nowhere better in London for a lively night out. There are restaurants of all sorts interspersed between vibrant bars and clubs.
For excellent French cuisine, try Le Petit Train on Chalcot Road, or Belgo Noord on Chalk Farm Road for hearty Belgian cooking and great beer. The best tapas can be enjoyed at the Spanish themed Bar Gansa on Inverness street.
Soho/Chinatown
Soho is probably one of the best places to eat out in London in terms of quality and value for money. Most of the restaurants offer fabulous cooking at reasonable prices, especially in Chinatown, where there are some great Szechuan, Thai, Cantonese, Japanese, Indonesian and Vietnamese restaurants. Try Imperial China Cantonese restaurant on Lisle Street, Kulu Kulu Japanese restaurant on Brewer Street, Busaba Eathai Thai restaurant on Wardour Street or Saigon Vietnamese restaurant on Frith Street.
Brick Lane
London's large Asian population is concentrated in the East End, especially around Brick Lane. Lined with Indian and Bangladeshi restaurants, it's earned the nickname the 'Curry Mile'. Monsoon is one of the hippest modern Indian restaurants, with contemporary Tandoori dishes as its speciality, whereas Sweet and Spicy gets back to basics, serving top-notch Indian food in modest surroundings. One of the most stylish Bengali restaurants is Café Naz, a sleek café-bar with modern wood and steel décor and atmospheric lighting. Its fish and seafood dishes are delicious. Preem is another good Bengali restaurant with a fantastic range of balti dishes.
Islington
Once a run-down residential area, this inner-city suburb in the north of London has been given a new lease of life in the last few decades. The beautiful Victorian townhouses have been renovated and it's now a trendy and fashionable part of London with an air of bohemian chic. The restaurants are a varied mix of stylish and quirky. The Elk in the Woods, for example, is reminiscent of an old lady's living room. It's a small and cosy place on the lovely cobbled Camden Passage. Just like the décor, the food is inventive and unusual – with a modern European influence. Flaming Nora is a great burger restaurant and takeaway, but it's not a typical fast food joint. The burgers are all made from the freshest, highest quality meat and fish, char grilled to perfection. Aberdeen Angus, lamb and tuna burgers are the specialties, and it also does a great line in skewers and kebabs.