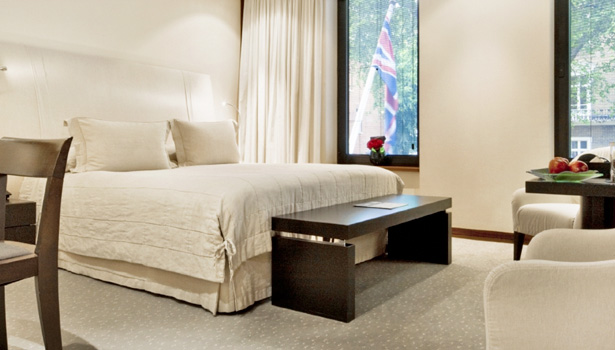 5-6 Halkin Street, Belgravia, London
The 5 star Halkin hotel is located in the heart of Belgravia, approximately 100 metres from Hyde Park Corner tube station. Boasting a total of 41 rooms, the Halkin is the epitome of comfort and luxurious living. En suite facilities are magnificent, huge baths soothe and relax, perfect for contemplating the events of the day and recharging those batteries.
The hotel is within easy reach of Knightsbridge and an abundance of designer shops, restaurants, in fact just about anything that takes your fancy, offering the opportunity to spoil yourself rotten. However, there is no need to dine out; the Halkin hotel boasts an excellent restaurant, almost guaranteed to leave you coming back for more.
The Halkin's award-winning restaurant serves Australian, Thai and fine cuisine for lunch and dinner, as well as an English breakfast each morning. Guests can relax with a drink at the hotel's bar.
Places of interest close to the Halkin Hotel London include the Apollo Victoria Theatre, Buckingham Palace and Westminster Cathedral. Piccadilly and Harrods are each within a 20-minute walk.
Tariffs at the Halkin hotel range from £135 per person per night (based on two sharing) during the months of spring, rising £5 during summer and winter. This includes a full breakfast. The single supplement (if you are staying on your own) means the price doubles. The mid-week (Monday to Thursday) supplement is £37.50 during spring, rising to £58.75 across summer and winter. A deluxe room upgrade is available from £75 per room per night.