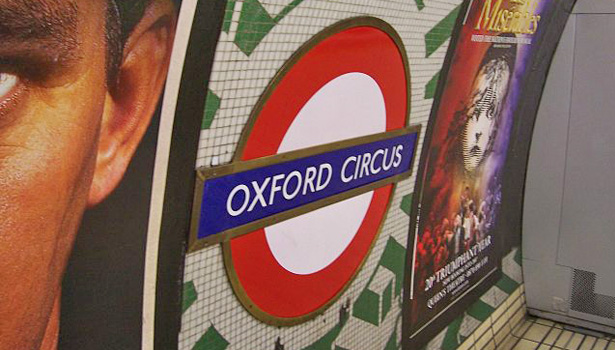 Oxford Street, located in the City of Westminster, existed from Roman times until the 17th century primarily as a westwards route out of the City of London towards Oxford, hence its name. Today, Oxford Street is one of the busiest shopping districts and the world's largest shopping street, having more than 300 shops that attract annually around 200 million of consumers.
The development of Oxford Street as a prime shopping area began at the start of 20th century, when the first furnishing specialists, Waring & Gillow, opened its doors in 1906. In recent years, Oxford Street represents the heart of London's West End shopping, running for approximately a mile and a half from Marble Arch at the north east corner of Hyde Park, through Oxford Circus to St Giles' Circus, at the intersection with Charing Cross Road and Tottenham Court Road. Opposite to the Tottenham's tube station, the recently refurnished, "The Tottenham" pub claims to be the only pub on the whole Oxford Street. But, with numerous clothes shops, record shops, like the famous Virgin Megastore and the HMV unit, which is the largest music store at 50,000 square feet, multiple computer games shops and department stores, including Selfridges, Oxford Street is an ideal location for those on leisure travel and time to browse through its colorful shopping windows. But although the street has multiple stores for one to choose from, these are not the most fashionable or the most expensive in the city of London. For those interested in other principal shopping areas, Knightsbridge is an excellent choice, especially because it is there where the famous Harrods department store is located.
Famous for its celebrity launches and promotions, Oxford Street becomes the focal point during the Christmas period because of the wonderful Christmas lighting tradition that began in 1959. Decorated with thousands of festive lights Oxford Street celebrates the Christmas spirit at a heavily publicized "turning-on" ceremony in mid-to-late November, when a chosen celebrity flicks a switch that illuminates the rays of light that go on until January 6.
Plans have been announced for what could be an audacious new move to change Oxford Street from its current traffic clogged state into a pedestrian paradise. Proposals to end the gridlock feature closing the street entirely to all traffic, even buses and build a new monorail stretching from one end to the other to transport people along. Critics however have pointed out that a monorail simply caters for shoppers too lazy to walk down the entire length of the street and that this is already well served by tube which would simply require improved accessibility to existing stations and perhaps a new station half way up the street.