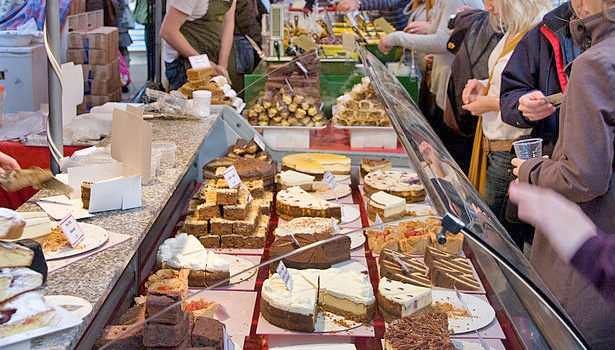 There is nothing quite like the sights and smells of a bustling market. London's Borough Market, located in Southwark, just a few minutes walk from Tower Bridge, literally smacks the visitor in the face with its abundance of culinary choices. Be it hard to find Indian spices, or the best bangers and mash in the country, all manner of exotic pleasures can be found at Borough Market.
A long, long time ago…
In 43ad Roman legions arrived at the south bank of the Thames on their way to the city of London and came across the early Borough Market. In order to reach the city, they needed to build a bridge to cross the river. The bridge they built was the first incarnation of London Bridge, and it is probably no coincidence that it was built nearby. Bridge building is hungry work. There has been a market in the area ever since.
Changing times
Having enjoyed a kind of renaissance in recent times, "London's Larder" has tended towards more up market and exotic produce, and with prices to match. However it retains the feel of a village market, helped along by the locals who come here to shop for weekly supplies.
Today the market is considered one of the countries most important retail centers for fine foods. Drawing over 70 gourmet food importers, organic farmers, world class bakers and butchers, it is a glorious escape from the masses of supermarket chains offering pre packaged, pre, prepared and pre processed food. It is also a key influence in the recent trend towards organic and locally grown produce. You can browse and "try before you buy" fresh ingredients for the nights dinner, or taste some of the international dishes on offer, as well as some home favorites. Sample cheeses ranging from mature and sharp to young and mellow, or line up for an organic falafel, but be prepared to queue for a while, such is their popularity.
Open for business
The market is open three days a week, from 11am to 5pm Thursdays, 12-6pm Fridays and 9am to 4pm Saturdays. Saturday is the busiest of all days and has an energy all of its own, where locals and visitors mingle and jostle for position in their claim for the last bottle of virgin olive oil, the perfect oyster or impossible to find anywhere else curry spice.
Borough Markets history and swift progress is symbolic of London itself, and its frantic energy is representative of life in such a frenzied city. Borough Market is truly a little slice of London, where the ring of the nearby Southwark Cathedral bell blends with the roar of trains overhead and the shouts of vendors: "Organic sausages two pounds each. Get 'em while they're 'ot".