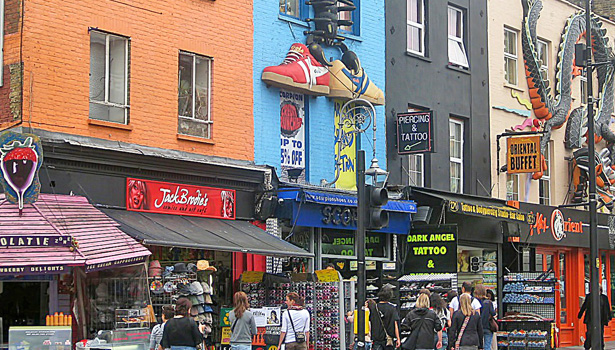 The London Borough of Camden includes a vast area of London covering of inner London, north of the West End and City of London. The area spans 22 square km and covers many vibrant areas such as Covent Garden, Holburn, Hampstead and King's Cross.
It is quite a new borough and only created in 1965 when the three metropolitan boroughs were combined. The three metropolitan boroughs were called Hampstead, St. Pancras and Holborn. Since this time, there has been huge development and expansion which has benefited residents, businesses and tourists.
The borough encompases a range of postcodes and area including N1 (Angel and King's Cross ), N6 (Fortune Green, Highgate, Kilburn and West Hampstead ), N7( Islington ), NW1 (Somers Town, Camden Town, Kings Cross, Primrose Hill and Regents Park ), NW3 (Swiss Cottage, Hampstead, Belsize Park and Gospel Oak), NW5 (Kentish Town, Gospel Oak and Queens Crescent), NW6 (Kilburn, West Hampstead and South Hampstead), NW8 (Regents Park and St John's Wood), W1 (Central London), WC2 (West End) and WC1 (Fitzrovia and Bloomsbury).
With regard to commercial interests, the borough is home to universities like the University College London and hospitals such as Royal Free Hospital. There is an array of businesses and the area has around 14,000 small medium and large sized companies. These businesses have many different interests and you can find anything you want here.
If you want high street shops, you can go to Tottenham Court Road, Covent Garden and Camden Town. If you are looking for something a little more off the beaten track go to Camden Market and Stables Market with its vibrant and eclectic mix of small food stalls and shops. You can find crafts, clothes antiques, and jewellery here and the weekends are generally the busiest days.
The London borough of Camden is known as this great city's cultural district and is a fantastic place to stay. It has great accommodation whether you are coming for a holiday, a short city break or a business trip. You can find hotels ranging from 5 stars to your small bed and breakfasts that are comfortable and cheap. Many of the small independent hotels can be found in most areas of the borough, however, for the more exclusive hotels, you will need to look in busy areas such as Covent Garden, Hampstead and Regents Park.
The best way to travel is by public transport as the borough has excellent bus and underground facilities. As the area is so vibrant and so full of life, the transport system needs to keep up with the sheer volume of people. This is done by a well maintained underground and bus system which links to any part of London.
Moving on to bars and restaurants, you can find all sorts of places to suit all types of needs. A range of cuisines can be found from Italian to Indian, Chinese to Middle Eastern and Thai to Mexican. Furthermore, this wide array of cuisine can be found in all the different areas within the London borough of Camden. For a great nightlife, you can find very upmarket bars to laid back, relaxed pubs. Angel, Hampstead, Primrose Hill and the West End are the best areas to find good nights out and a great atmosphere.