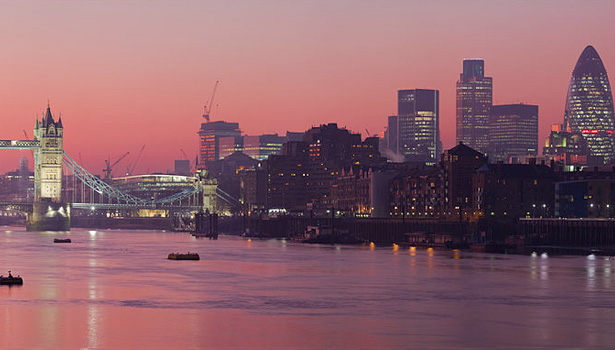 Viewing London from Thames is the least stressful way to travel in London and is heap of fun. There are 9 piers from which to stop or start one's journey. These are: Hampton Court Pier, Richmond Pier, Kew Pier, Putney Pier, Westminster Pier, Charing Cross Pier, Tower Pier, Greenwich Pier and Thames Barrier Pier.
A visit to London is incomplete without a cruise along the Thames, either as an introduction to the many sights and scenes to be enjoyed during one's stay or as a treasured memory of one's visit. All year round, there are that boat service leaves regularly from Westminster Pier, passing historic and modern places of interest. Over the centuries the river has brought life to London. Hustling boats, teeming wharves, trade and commerce at every turn. Reminders of days gone by are still to be seen along the riverbanks. The classic architecture of Greenwich contrasts with the modern style of Canary Wharf.
To travel by water is one of the easiest ways to get around London. At the time of the Romans until the 18th century there was only one bridge across the Thames, and naturally it was clogged with traffic. It was quicker and easier to hire water boats to carry travelers from one bank to the other, or up and down the Thames.
The early 19th century saw a proliferation of canals built into and around London, usually for goods transport. These canals fell out of service as rail transport became a viable option, but now they offer a relaxing way to travel about the city.
Along river Thames one can find several tour boat operators, where one can buy tickets for a sightseeing tour on the river. These tours are recommended because one travel on the beautiful river Thames and see London and its beautiful buildings and sights from a completely different view. The tour guide gives you loads of information about the buildings and views one pass.
One of these tours goes to the London Tower, a museum located at Tower Bridge. During this trip one can view several well-known bridges, like Blackfriars Bridge, London Bridge and Tower Bridge. There are several famous and/or beautiful buildings (for instance the Royal Festival Hall, Shakespeare's globe which was used by him as a theater, the oldest pub of London and last but not least the Tower of London), landmarks (like Cleopatra's Needle and the Oxo tower) and wharves to be seen on the way. One can view the HMS Belfast, a naval ship that is used as a museum nowadays.
Another tour starts from Hampton Court, which has been the Royal residence for centuries from the 16th century onwards. The route this boat sails is the same as the kings used to travel to Hampton Court. There are several beautiful and/or famous buildings for instance Big Ben, Houses of Parliament and Lambeth Palace. One passes several well known bridges like Westminster Bridge, Lambeth Bridge and Hammersmith Bridge. Going through two locks through a boat is quite an experience in itself.
One prominent feature is the further away one comes away from the center of London, the more expensive the houses became. There are also more and more yachts which slowly became more expensive too. Around Kew and Richmond there was number of expensive yachts vying with each other.
The best part of tour was the natural scenery. Sometimes it looked that one was not in London anymore. There was nothing but peace and quietness all around and all one could hear was the pounding of the boat itself.