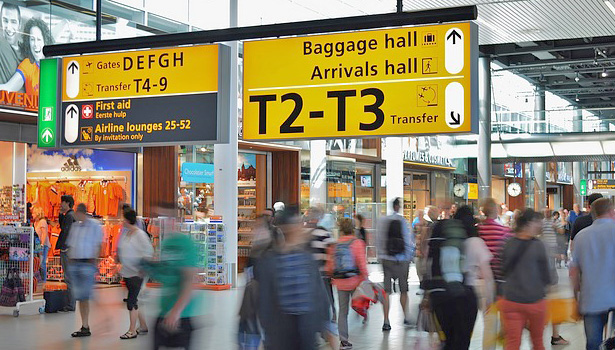 How can you get in and out of one of the most exciting cities on Earth easily? Heathrow is a sprawling and unpleasant airport. Immigration from outside the EU can be a chore. The London transport system can be expensive. Here are a few tips to make the going easier:
Let's start on the way in. You've collected your bags from the carousel, got through immigration and made it into arrivals.
There are various transport options to central London; tube, black cab, mini cab, bus and train.
1. The London Underground, 'the tube', is the cheapest, but it can take an hour and a half if your destination at the other side of London. The tube has to stop at every station on its route. It can be crowded. It's great for short trips, or for commuting to work. For beginning or ending a holiday, it's wearisome.
2. Black cabs: Black cabs are also very good for short journeys; they are spacious, clean, and the drivers are professionals. They pay a lot of money for their licence, and are tested on their knowledge of London. They can be very expensive. A fee of $120 to get into central London would not be unusual, if the traffic is bad. The meter is running even when you're stopped.
3. Mini cabs: These guys charge flat-fee fares, so it's worth finding a few mini cab companies near Heathrow on the internet, and see if you can get someone to meet you in arrivals. They have to be booked in advance. You can't book them from the airport on the day, as getting into Heathrow and finding you can be a nightmare. Sometimes the customer may not show up, so it's not worth their time.
4. Bus: I'm not sure I'd use these at all. Being stuck in a traffic jam, in a bus, on a long journey, with the clock ticking is my definition of Purgatory. They're good for short hops or before the rush hour or late at night. Cheap as chips, but you pay for it in other ways.
5. The train: This is my favorite. There are two train services from Heathrow; Heathrow Express and Heathrow Connect. The first takes fifteen minutes to Paddington, the second about half an hour. Both go to and from Paddington, which is a major terminus in the center of London. Both are clean, and much faster than the tube. Spend a little more money, and be sure of getting where you want to go on time.
On the way back home, when you board the Heathrow Express in Paddington, you are fifteen minutes from Heathrow. The tube by contrast could take an hour or more. No contest, when you're fretting about getting checked-in on time!
It's worth considering whether you can fit all your luggage into one small case, which you can take on board as hand luggage. This means you can leave it until relatively late to check in. (Due to the new security measures, however, you can't cut it too fine; the queues at departure can be quite long.) Coupled with taking a train to the airport, this can make your journey a lot more pleasant. Plus you don't have to worry about your luggage going missing!